Hello.
I have only just realised that hedgehogs are so super cute!
I'm working on my surrealism studio work and one of my pieces of automated writing (that I'm basing my works on) says this: "bricks bound to hedgehogs and flies with matchstick wings". So instead of lino printing this one I thought it would nice to make it into some type of sculpture... but how does one create a hedgehog or a fly with matchstick wings? Well, first I thought to sew a hedgehog but after trying and trying and trying to put together a suitable pattern and then realising I don't have any suitable brown material I decided to do a google image search.
And I kept coming across this one image (or variations of it):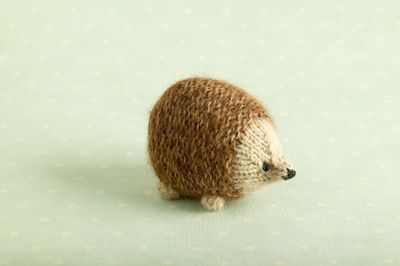 He is just soooo super cute I thought.. well, I'll just knit one - perfect :)
So I bought the pattern and made one...
Sorry for the bad photography, it's so dark here coz it's raiiiinnning... it's only 4 o'clock!
I didn't have the exact type of wool I would have liked but I think he's cute anyway :) [I kinda think he needs ears though]
So now I just have to get a bit of brick and bind it to him! And maybe make a few more coz they are soooo cute!! Now I think I'm obsessed with owls and hedgehogs! hehe